She: Compassion Dinner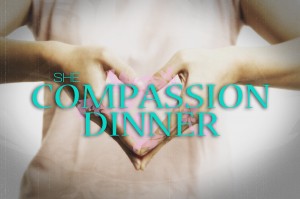 I'm looking outside my window listening to a bird sing and you would have never thought the last couple of days were as overcast and rainy as they were. Its bright and beautiful outside with what seems like a new life. The crisp solid greens in the trees and grass make it seem as though they are standing up a little taller after the refreshment. Spring time is a time of renewal. Where April Showers bring May flowers and we witness the earth taking a deep breath of air and exhaling its splendor.
In the same way for us women, I think there is a renewal and excitement with Spring time. We start counting down the days of school and work until summer, we bring out the shorts and flip flops and schedule our first pedicures of the season.
This Spring we are having our first She Compassion Dinner on May 4th. It is a time where we can come together and enjoy the company and laughter of girlfriends while tangibly reaching out to our community with love and compassion.
This year we are partnering with the Rockwall Crisis Pregnancy Center to help supply them with baby items for the women who are faced with an unplanned pregnancy. Tickets will be $12.50 and it is suggested that you bring a donated baby item. We will begin the night over a gourmet meal and sweet desserts. After dinner we will have a time of worship through song and then hear a message on how every life is beautiful from National Surrendering the Secret Director, Carrie Bond.
Many of you have asked "What can I do to help?" There are plenty of areas to plug in and help to make this night great. We need women who are willing to host and decorate tables in baby themes for our attendees. The hostesses will decorate the center of their tables incorporating the different baby items to be donated to the pregnancy center. This a great opportunity to show off your Pinterest and creative skills while helping provide some much needed supplies for women who can't afford them on their own. If you would like to host a table or are just wanting more information, we are having a meeting this Sunday at 5:00p.m. in the Education building. We also need help with women selling tickets on Sunday mornings as well as helping to decorate for the dinner.
If you would like to help in any of these areas please email she@sachseschurch.org.
For the rest of you save the date of May 4th from 6:30 to 8:30 for a great night of ministry and fellowship. Invite your friends, family members, co-workers and neighbors to join us on this special night where we get to be a part of a movement that is literally saving the lives of precious babies in our very own city.
I really can't think of a better way to celebrate the Spring season than getting together with your girlfriends and helping bring the message of love, renewal, and new life to women all across our community.
Breathe in. See the Beauty. Give life.