Prayer, My Only Option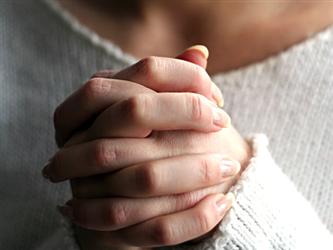 The Spirit is doing something in me. I have been in a place for a couple of weeks now where I feel absolutely raw. My insecurities are rearing their heads in ways that I thought would never face, my abilities are made pretty insignificant in light of how life is going right now. I argue with myself a lot. I dialogue with God a lot. I'm in a season of change with new responsibilities, new relationships, and new trials and frankly its left me more times than I can count sitting on my couch with a glazed look on my face asking myself once again " What do I do? How do I respond? What can I do?" The only answer I can think of is, pray.
I've been in church my entire life, and I still don't know how to pray. I don't know how to shut my brain off and be silent. I don't know how to not ramble and be repetitive. I don't know how to ask from a pure heart because it seems whatever I ask is with selfish motive. I don't know how to pray. So this could be a problem if my only answer is to do something that I don't know how to do. Its my only option…so I'm stuck. Let me share a quote with you.
"Our prayer must not be self-centered. It must arise not only because we feel our own need as a burden we must lay upon God, but also because we are so bound up in love for our fellow men that we feel their need as acutely as our own. To make intercession for men is the most powerful and practical way in which we can express our love for them." John Calvin
How beautiful this quote applies to the rawness in my soul right now. The burdens that I am carrying both personally for those in our church family, for my friends, the biggest act of love I can show is to pray for them.
We approach prayer so flippantly. And we pray for one another causally, when really it is one of the most selfless and beneficial things you can do for someone. Its always kind of funny to me that when prayer requests are asked for at church there is a silence in the room, as if we aren't struggling we aren't hurting, we don't know people who are hurting. But we choose to keep it to ourselves. To will it and think more positively and to do what we can to make it better, when God all through out Scripture gives the imagery of bearing one another's burdens, of mourning with those who mourn, of praying and encouraging one another. It is a willingness to get raw and real with one another. We need to pray together.
I'm a doer, I like to fix problems. I like to cook meals, surprise with flowers, send a sarcastic text to make people feel better, and although they are good practical ways to show love, but if I don't pray and intercede in their pain and struggle, I am doing nothing.
I'm learning as a pastor's wife to expect bad news. In all of the blessings and greatness that God is allowing us to be a part of at Sachse, we are also a part of the hurt and struggle in our church families lives. The bad doctor's reports, car accidents, hurting marriages, death…it feels as if it is constant. For people who I absolutely love their pain and their hurt burdens me to no end. As I am typing this I can think of faces who I know woke up this morning with defeat, and hurt, and worry as their Monday was about to face them,and as circumstances would not be in their favor.
So in this realization, I am learning that it is so incredibly important to press into Jesus and to pray. Pray for strength and the ability to minister, and more so to pray for burdens that I can do nothing about. That my biggest way to show love is to through tears and my heart aching..to sit…open my mouth and say "Dear Precious Jesus….."
It is my best option, and more importantly my only option.