High School, Broken Carnations, and the Son of God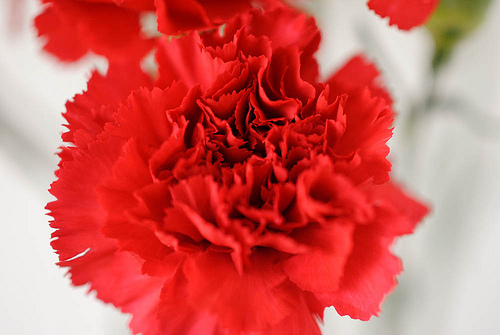 Today is Valentines Day, if you didn't know from all of the statuses and pictures scrolling through Facebook about what people received from their beloved, or the statuses stating how dumb and pointless this 'day of love' truly is.
Whether you are a hopless romantic or someone who annually forgets dates like today along with anniversaries and birthdays we are reminded today to love others. That could be your spouse, your girlfriend, your dog, your teacher…..maybe the stranger on the street. Seems kinda crazy that we need this kind of day set aside in our calender year, but if it makes people act nice instead of their regular pessimistic and dreary-like I am all for V-Day.
I remember back in jr.high and high school where the Student Council would always do the fundraisers with the carnations and you could buy a cheap carnation with hardly any petals on it and write a card. During a certain period all of the carnations would be delieved. The door would open…and everyone would watch the flower delivering student walk to the teacher and one by one the teacher would pass out the carnations. Some would end up with nothing and some would end up with TONS of flowers. I didn't know that your dog could send carnations to you at school, but somehow little Fluffy was able to express his hearts undying love to a girl with 10 carnations.
You were either loved or you werent….and the whole class knew it. Oh and it didn't stop there. Everyone humbly carried their bouqets of dead and withered carnations everywhere they went…..all of their remaining classes, the bathroom, the lunch table, the lockeroom.
There is something within us that wants to scream 'We are loved. Someone loves me." I got Josh a coffee mug for Valentines Day. You may think that is lame and cheap. Cheap yes…Lame no. This coffee mug has a scooter on it. Several months ago when we first moved he called me from our new local Starbucks and ranted about this mug. I told him he was crazy and that we didn't need another coffee mug. Well, today he got it. Not because we needed a new one, but because I know Josh. I know his little obsession with scooters and his BIG obsession with Starbucks. It was a small way to communicate that I listen to him and love him. The thing about love is that its not about how much money you can spend, how sexy you can be, or how many carnations you can end up with. Its root is in knowing that someone knows you…..even the little quirky things and the not so great things, and that they still choose to love you.
No matter what your relationship status is today, there is a beautiful love that can not be matched. It is a faithful love that never fails and is never selfish. It is always looking out for your interest and screams that you are absolutely loved. It is the love of a Father who knows everything about you from the hairs on your head to how He knit you together. It is the love of a Son who purely loved you even when the deepest core of you was wicked and evil. That Son took on your guilt, shame, punishment, and unworthiness so that you could live in freedom, grace, and holiness.
You may not have a handful of gross carnations today, but you do have the sun shining down, a clear blue sky proclaiming "Someone loves me. The Creator and most Beautiful God loves me." The Day of love isn't Valentines Day, Feb. 14th. It was the day that as Phil Wickam puts it "The day that True Love Died." That is beautiful unrelenting love. May today be the day, and every day, that we give a carnation and the message that We. Are. Loved!
"Know therefore that the LORD your God is God, the faithful God who keeps covenant and steadfast love with those who love him and keep his commandments, to a thousand generations"- Deuteronomy 7:9