Comfortable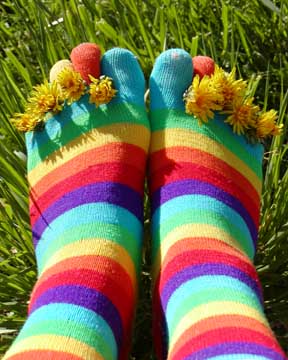 You know the great things about toe socks? Its that every part of your foot is embraced in the beauty and greatness of the sock. There is no cramming together of toes that causes nasty sweat and clamminess. Nope! Toe socks allow for each individual toe to be wrapped in the pure warmth and greatness.
When I got my first pair at Christmas my reaction was 1)they look so weird, and 2) they feel so odd. Outside of flip flops things are not suppose to go between your toes….but after time I feel in love with them.
Whether you like toe socks or not let me share a quote with you:
"Why would we need the Comforter, if we are always comfortable?"- Francis Chan, Forgotten God
This question has been coming to my mind, more than I would like. We are almost done with Chan's book, Forgotten God and going through it with the students. This quote was from a couple of chapters ago, but it seems to be something I keep asking myself over and over throughout my days and weeks.
The background of the statement was that Jesus promised the comforter to come and be with us once he left, speaking of the Spirit. He mentions that there are two things that are probably keeping the Spirit from working in our lives, one being too busy and the other being too comfortable.
I'm reminded of a video I shared a couple years ago of actual footage of men being beaten and killed for the Gospel in India. Watching frail bodies being kicked and spit on because they say that they love Jesus.
Its rather ironic that I am sitting here talking about comfort as I sit in my warm house with the sun beaming through and a glass full of sweet tea, after my second meal of the day. There is no threat. I can go to target and invite the woman at the checkout to church, I can meet up wit a girlfriend and talk about how God is moving and stretching me in front of Starbucks, I can type out a blog screaming how Jesus is Savior and Lord, and in the end I'm comfortable.
The worst that could happen is someone responds on Facebook with some kind of recant about something that I said, but really is that categorized as being uncomfortable for the gospel?
I am not one to take risks really. I was the pre-teen whose parents forced her to take the shiny pink training wheels off of her bike because it just looked weird and I needed to grow up. Not really……well yes really. Jumping out of an airplane? Sounds rather dumb to me……..spontaneous road trip? How will we afford the gas, and what if we can only find a shady hotel on the way to stay in. This is my mind and my life.
I like to plan and sort through things out. Weigh all the options and then make the best decision. Discomfort goes against the way things are normally done in my life, and so it is normally in those times where He forces me out of my comfort that I am pushed to need Him and want Him.
The reality of it is that often times in my need for all of my ducks not only being in a row but perfectly swimming with smiley faces on, the need for an easy journey keeps me from intimacy with the Spirit. In the discomfort is when the Spirit comes and woos and stays close to our hearts. When we can't plan any more or do anything else to fix it on our own He whispers and gives grace to get you through it. In our discomfort He comforts.
I'm honestly scared to pray that He would make me uncomfortable. I have started the prayer and then think, "can I really handle Him answering that?" Do I want him to strip away the things (I think) I need.  My prayer is more like, help me be uncomfortable in the small things right now and gradually get me into the bigger things later on…..but then again… isn't that more comfortable?