A Review of "7" by Jen Hatmaker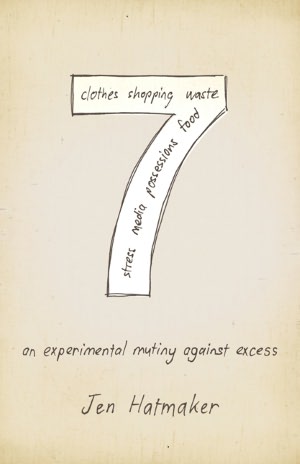 I'm warning you. This is not your typical chick-lit. If you are looking for a book that makes you feel good and helps you to dream of fluffy bunnies in beautiful fields, this book is not for you. Those will be exchanged with images of the poor on the other side of the world that we often choose to forget. You will look at your life completely different. Everything in it. From how you get dressed in the morning, to what you eat throughout the day, and you might even question if the Americanized Jesus you have given a life long commitment to is nothing more than a glorified means to feeling better, stronger, smarter about our sinful selves.
Jen Hatmaker in "7: An experimental mutiny against excess" challenges herself in 7 months, in seven different arenas of excess: food, clothing, media, stress, shopping, waste, and possessions." Essentially what she has done is taken the great biblical habit of fasting and collided it with our modern day world. Fasting from the norms of life to intentionally allow God to speak, move, and break our hearts for Him and His love for others.
She ate only 7 foods for a whole month, wore 7 articles of clothing, spent money at only 7 different places, gave away 7 items every day for a month, and paused 7 times a day to pray. For some of you this may seem radical or extreme, and others you think thats not that hard. The difference between us and her is that she committed to change it.
There is a stirring in the evangelical church. We read/hear the stories in our Bibles and we see a disconnect between the words on those pages and the lives that we live. We make up excuses like "thats not for me" or "I'm not strong enough to do that or live that way" or many of us try to change and we will within ourselves that we will be better, do better, love more, and because it is ultimately about us we fail. We fail because we have a tighter grip on our things than we do on Jesus. We choose our comfort over sacrifice, our reputation over compassion, and our possessions over souls. I don't know about you, but I do every.single.day.
Jen's humorous writing makes the kick in the face a little bit softer as you will laugh and cry, ponder her words and the verses of Scripture, and approach conviction with truth and grace. It gets a little tedious at times reading through the day to day of how to use an avocado differently in a meal, or the documenting of composting and stealing the neighbors trash and putting it in the recycling bin, but the book as a whole will convict, challenge, and change the way you look at you, your stuff, and your God.
This would be a great book for a group of girlfriends to read and discuss. It's not a Bible study, but instead a spiritual journey, and as you join Jen and her 'Council" of friends you can dialogue and brainstorm with what 7 looks like in your own life. You can pick up your very own copy for the grand price of $7.23. It is available to order here.
I am also giving away a copy on Jan 21st. You can have your very own by just commenting on this post and sharing it with your friends on Facebook/Twitter/Book Club, etc.
If you are in the process of reading it or have already finished it, I'd love to hear your thoughts and dialogue about how/what you have changed after reading '7."
Happy reading my friends.