A Mother Load of a Week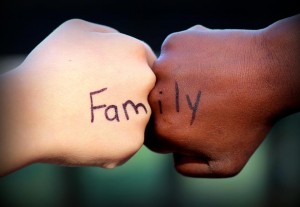 This has not been one of my favorite weeks by far. I can't remember the last time I cried so many tears, was so angry, and so broken all at the same time. I've cried when I get text messages, to the random lady at Costco. I've hugged my kids longer, yelled out of frustration, and just been absolutely clueless as to where we will be after this week.
I won't go into details right now, but I will say that our adoption story has been turned upside down, inside out. Its that feeling when you get when you play Monopoly and you read the card that says 'go to jail, wait two turns' its just now, its real life, real money, real hands and feet and most importantly hearts that are being effected, but…there is a but….there is Jesus.
I got a text from some friends of ours while we were eating dinner asking if her and her husband could stop by. We honestly had no idea what they needed, but we texted our address and shortly after the knock was at the door. Haddon's little friend came bursting through the door and ran straight outside to see his friend.  Then Josh got a card and I got a card. Josh's contained 250.00 cash, and mine 40.00 (10.00 from each of the kids own allowance money). This sweet family showed up at a time when I honestly was questioning the life of our adoption. All kinds of questions circulated my head: "What did we do wrong? Were we even meant to adopt? Were we suppose to walk this journey to be left with the longing?"
Their sweet act of sacrifice and love answered that question. Keep Walking. Keep Trusting. Keep Pursuing.
After they left I immediately thought of the passage of Jesus feeding the Five Thousand (men). That there was a faithful sacrifice and with that God multiplied and met far beyond the needs of everyone, and I honestly believe that is what God is going to continue to do here.
I am trying so hard in my broken and fleshly self to trust and to have faith. To pursue Jude just as God has pursued us with patient, faithful, holy love. I am so far from being a close replication of that, but I do know and trust that He is fighting for and pursuing God harder than I ever could.
I love the end of Matthews account of this beautiful miracle. He says, "And they all ate and were satisfied. And they took up twelve baskets full of the broken pieces left over." (Matthew 14:20 ESV)
I know at the end of this my soul will be satisfied, and my arms full of God's beautiful story He has written of pain, loss, love and a sweet completed family.